Our 10 year old grandaughter just called to tell us her Dad died

Why the hell would they have a little kid call us?
Sorry to hear about your loss, and yeah that is a little messed up to have a child call.

dblshockpwr

Shock and Awe




Number of posts

: 2260


Age

: 48


Registration date :

2006-08-23



Ah, man, Magic. That's horrible…

And yes, to have a 10 year old make that call is just wrong.

ColtsKurt

Speaker of the House




Number of posts

: 3915


Age

: 63


Location

: Home of the 2006 SuperBowl Champion Indianapolis Colts


Registration date :

2006-08-24



Well her Dad was Art Smith who was the spoiled rich son of former insurance biz owner here since 1950 (Homer Smith II) who died years ago and the company was passed on to Homer Smith III who still run the company in Port Townsend and Art was the kind that just wanted his Moms credit card (she is still alive living with her daughter)
Since Art was the way he was Baylee the lil angel has lived with Arts sister Helen also in Port Townsend (this where I go just to visit my bank) and her husband who is the CEO of Alaska Power and Telephone
So Baylee has just lived in a big Victorian house there since Helen got her and Baylees Mom is my wifes daughter who was pretty much like Art and she had 3 kids and none of them lived with her.
It was to the point where she would visit her Dad a couple times a week and had to tell him how life works and show him how to shop at the stores (we showed her that)
For some reason Baylee thinks I am the greatest guy in the world and my wife is the one she always talks to about everything.
She has wanted to live with us since she was a baby but she is better off where she is since her aunt likes to do all the girl stuff with her from ballet to gymnastics and also hanging around the big shots in town from the people around the insurance company and the AP&T company.
I can't imagine being 10 years old and doing all the stuff she does.........she does tend to wear out and want to take a nap after all of it and of course it is the exact opposite at my place (she thinks all the projects I have done here were for her)
She will want us to go to the church when the day happens and we usually try not to but will for her (she used to ask why my brother hadn't stopped by here to re-do here bedroom we have here for her since he was a drywall pro and he told her that one day but we never saw him again  
 )
I feel like I am 80 these days but hope to live to 100 and then she can have my place even though I am not actually a blood relative  
If I had anything to say about it she would be yanked from public school since for some reason she looks older than almost 11 and I would be scaring the holy hell out of the little boys for the next 20 years  
Last summer for her 10th birthday
Of course when she was here the other day as usual I make her be a lil kid and then take a picture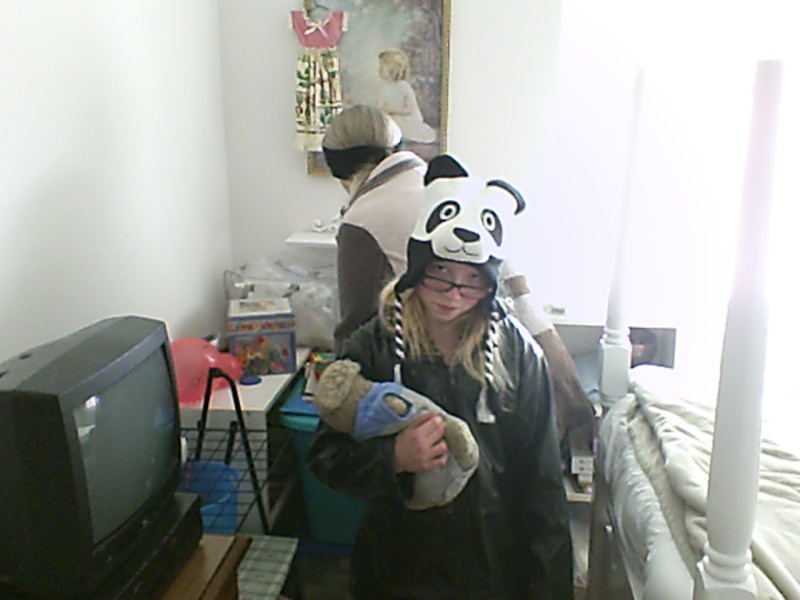 Sad News indeed, Papa Bill will do the right thing, we all know that.

cravnravn

I moved Baltimore to Florida




Number of posts

: 5852


Age

: 59


Location

: Deltona, FL, Fizzled Out


Registration date :

2006-08-23



cravnravn wrote:Sad News indeed, Papa Bill will do the right thing, we all know that.
Thanks Cravn  
Sounds like she talked to you because that's what she calls me when she talks to anyone about me!
Of course to me she just says Papa..........and of course her Nana  
We're papa and gigi to our grand kids...
Just did a picnic lunch with Gavin for his last day of preschool. Off to kindergarten next year!
My boss is a great guy... he lets me do whatever the hell I want to do...  

ColtsKurt

Speaker of the House




Number of posts

: 3915


Age

: 63


Location

: Home of the 2006 SuperBowl Champion Indianapolis Colts


Registration date :

2006-08-24



Magic wrote:

cravnravn wrote:Sad News indeed, Papa Bill will do the right thing, we all know that.

Thanks Cravn  

 

Sounds like she talked to you because that's what she calls me when she talks to anyone about me!

Of course to me she just says Papa..........and of course her Nana  

 
Crazy, the Mrs is Nana, and Im Pop to our grandson

cravnravn

I moved Baltimore to Florida




Number of posts

: 5852


Age

: 59


Location

: Deltona, FL, Fizzled Out


Registration date :

2006-08-23



---
Permissions in this forum:
You
cannot
reply to topics in this forum