It will be here in about an hour........I will take a pic later today
Around here where small towns are spread around the Olympic Peninsula over the years all the bowling alley's have been closing and taken apart and sold.

The town next to where I live is Port Townsend where they had one until I was about 30 and it is gone and now is one of those 21st century hippy stores that sell all type of stuf in a bottle and crap like that.

Then recently the next town west of me that I visit once in a while called Sequim where the indian casino is and they own the Dungeness Golf course.

Sequim is now a big town full of rich retired and then the exact opposite jackasses by the hundreds and they had ONE bowling alley.

Well for several reasons it closed last June and the owner didn't own the building but all of the lanes and pin setters and all the rest so he removed it all and put it in storage and then several locals from the past talked him into selling them lanes and pieces of the history that they remember from the 1950's

So I found this last piece for sale on "Craigs List" and got it for $200 and he delivered it to me from Sequim (it weighs about 350lbs)

I had to have this piece of history.

His Dad (he is over 80) owns the alley in the next town west of me (100 mil+ round trip) and it was recently upgrade to the modern version.

His son who I met today ran the one in Sequim and in his younger days he bowled with guys like Dick Weber and Earl Anthony the legends of pro bowling.

He was real bummed about losing the old alley in Sequim and he had stashed all his bowing stuff away and has not bowled since.

Funny thing that we met and talked for hours...........I have mentioned here a few times over the years that I want to see if I can switch to bowling instead of golf........well now him and I will be meeting at his Dads alley and have it for just us (and our wives) and he will roll the ball and I get to see if I can actually still play since it has been decades because of the back problem AND the fact that the closet alley is a 50 mile round trip east of here (he also knows those owners)

So this is a piece of history........another reason I have to live 100 years so maybe some day I will have a grand-kid to leave it to  


Great people.......he even took my original ball from my league days when I was 13 and his Dad is going to plug and drill it for me even though it is the old style ball that they don't let you bowl with......just for me to keep and actually be able to put my 2 fingers and thumb in that black beauty again  
 (yeah I know this is a bunch of goofy talk but WTH)

cravnravn

I moved Baltimore to Florida




Number of posts

: 5848


Age

: 58


Location

: Deltona, FL, Fizzled Out


Registration date :

2006-08-23



Yeah I remember that when I was a kid........on tv.....never saw that around here and we just figured it was some goofy New England sport back then
Well if 10 pin bowling was easy we would be millionaires who got rich at a bowling alley!
All you need is a 230 average and you can join the PBA

I never rolled a 300 game (made a 7-10 split when I was 13 in the school league once and still have that ball)
Short stumpy pins and rolling a croquet ball to knock em down is not my type of game
Maybe THIS is why the Orioles have trouble winning a WS since they roll the baseball around the diamond too much since 1930's
And used to hang out at the pool halls like the Babe!
Bet I could knock down some ducks with a 16lb ball......especially these new fancy ones I never have tried yet.
Well after our trip to the city for my MRI we did a bit of shopping and picked up another H-Bird feeder so now we have 7 feeders and around 100 H-Birds and more to come when the babies hatch.

So we have 5 of the feeders together at the living room window facing the pond  



I think the ear plugs they gave me for the MRI made me fall asleep because it seemed like it only took 15 minutes but the wife said it was an hour+  


Too friggin' hot for me already.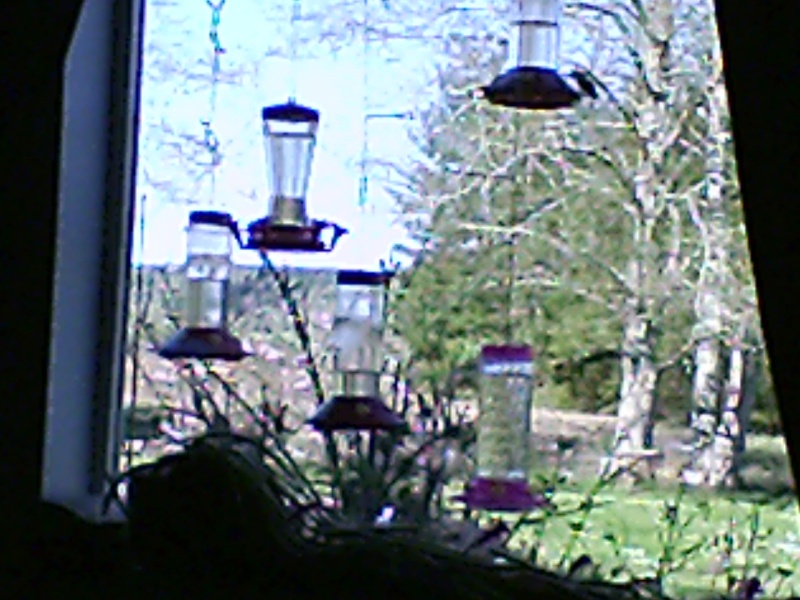 No such thing as too hot.

cravnravn

I moved Baltimore to Florida




Number of posts

: 5848


Age

: 58


Location

: Deltona, FL, Fizzled Out


Registration date :

2006-08-23



Much cooler today but that means rain here by tomorrow and they just said 30mph winds
Last night at 8 the on a warm evening the POWER went out............all over here for miles.
Called in and they said the transformer caught on fire IN FRONT of the fire station that is next to my post office 6 miles down the hiway.
You would think by now they could update so the power would only go out down there in Chimacum and NOT here in Port Ludlow miles away.
It was out 3 mile+ on the other side of my place too.
It came back on at midnight so I got up and reset the clocks and booted the 6 computers back up and checked to see if they got screwed up.
The laptop sounded like it had gravel in the fan but after another reboot it was back to normal.
Stayed on all winter but goes out after a sunny damn day

It did screw up some of my Cern work and the only good thing is I won't have to postpone those Windows update reboots on some of them.

---
Permissions in this forum:
You
cannot
reply to topics in this forum